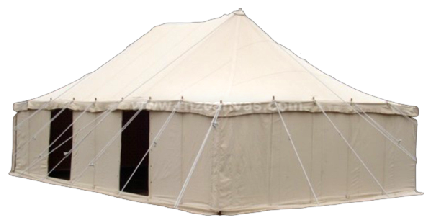 Size 4×3 M ,4×4 M , 4×5 M, 4×6 M, 4×7 M, 5×8 M, 6×12 M, 7×14 M, 8×16 M, 10×20 M
Height              2.8 , 3.2 M
Wall Height      1.8 M
Make :              Single Fly Three fold
Material :          Three Folds
Outer Fold:-      680 g/m.sq , 100 % water proof and rot proof cotton canvas.
Middle Fold:-    Dyed black color , 100 water proof cotton sheeting of 170 g/m.sq
Inner Fold :-      Breathable dyed yellow,green, red color cotton sheeting OR Printed Cotton Sheeting of 170 gr/m.sq
Frame               Painted steel poles of 55 mm diameter
Mud Flap Made of white HDPE fabric ,270 g/m/sq –  20cm on wall & 30 cm as Mudflap
Walls With iron sticks of 25 mm diameter
Doors 4 doors with anti insect netting and rolled up flaps
Windows :         8 windows with anti insect netting & rolled up flaps
Accessories :    All accessories and tools for ready use,iron poles,iron pegs,ground pins,iron hammer and repairing kit.
Packing Each tent packed with all accessories in one rolled bale,wrapped into polythene and then a good quality HDPE bag and then sealed by three steel straps.