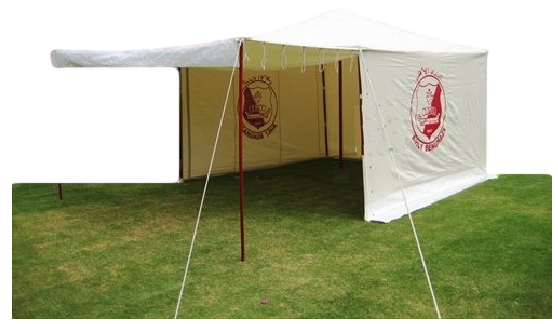 Size :                         4×4 & 3×3
Height                        2.5M
Wall Height                1.5M
Make                          Single fly single fold.
Material                      Single fold of 450 G/m² waterproof & rot proof cotton canvas.
Colour                        Natural canvas
Frame                        Painted steel poles of 48 mm diameter
Mud Flap                    Made of White HDPE fabric, 180 g / m2 – 15 cm on wall & 20 cm as mud Flap
Walls                          With iron sticks of 25 mm diameter
Doors                         2 doors with loop lacing , one entire wall can be opened and act as a patio
Accessories               All accessories and tools for ready use ,iron poles ,iron pegs, iron hammer and a repairing kit.
Packing                     Each tent packed with all accessories in one canvas carrying bag with strong handles.